Just, så va det! En kall vinternatt år 2010 hittade fotograf Frank Aschberg mej under Liljeholmsbron. Hemlös utslagen och påtänd! Ryktet att det fanns en hemlös knarkare som fotograferade och skrev om det livet hade Franki tagit reda på!
Så han bestämde sig för att försöka hitta mej vilket han till slut lyckades med.
Satt en kamera i min hand och bad mej dokumentera den hemlöses liv under hela 2011. Det gick riktigt bra! Jag sålde inte kameran eller bytte bort den mot knark. Jag fotade och fotade och fotade. var fjortonde dag träffade jag Franki och han tankade ut filerna från kameran.
Efter varje leverans blev bilderna mer och mer berättande. Franki sa: "Håll höjden!" och med det menade han att jag levererade unika foton och att jag allmänt började hålla stilen.
Fick ett klart genombrott som dokumentärfotograf och dörrarna formligen stod i kö för att öppna sig!
Det blev även en fotobok med just det namnet "HÅLL HÖJDEN!" av projektet och vidare mediafärd för mej!
Idag träffas vi lite då och då, precis som vilka vänner som helst!
Idag var det en sådan dag.
Så klart vi spexar till alvaret då vi ses!
Franki slog en kullerbytta mitt på ljusan dager korsning Swedenborgsgatan/Wollmar Yxkullsgatan.
Reser sig på armarna och ropar: "Jag bär hela Världen på mina armar!"
Nice kontrar jag och trivs med ett familjärt skratt!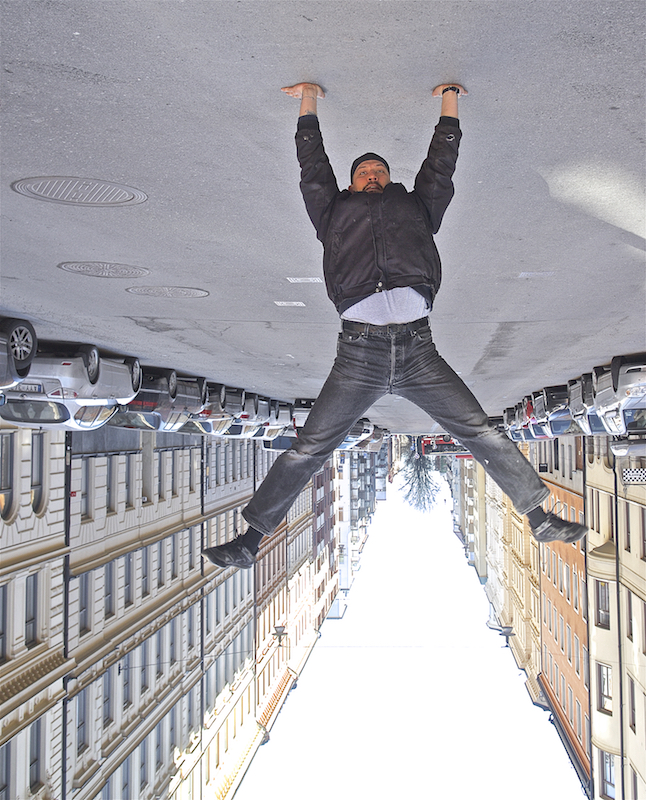 FRANK FRANKI ASCHBERG
Right, so be it! A cold winter night found the photographer Frank Aschberg me during Liljeholmsbron. Homeless and eliminated! The rumor that there was a homeless who photographed and wrote about the life had Franki found out!
So he decided to try to find me, which he succeeded in doing.
Put a camera in my hand and asked me to document the hemlöses life throughout 2011. It went really well! I sold the camera. I took photos and shot and shot. fortnight I met Franki and he took advantage of the photographs from the camera.
After each delivery became more pictures and more narrative. Franki said: "Keep the highest!" And with that he meant that I delivered unique photos and I generally started to keep the style.
Got a clear breakthrough as a documentary photographer and the doors opened!
There was also a photo book with just that name "KEEP HEIGHT" of the project and further career for me!
Today, we meet now and then, just as the friends anytime!
Today was such a day.
So clearly we kidding when we meet!
Franki hit a somersault in the middle of the day in crossing Swedenborgsgatan / Wollmar Yxkullsgatan Södermalm Stockholm Sweden.
Franki gets up on his arms and shouts: "I carry the whole world on my arms!"
Nice I counter and enjoy a laugh!