Along the bottom, the text in English.
Då vart det dags för Songgaar och SUPERKRAFTER! att dela scen på Kafé Klavér Rutger Fuchsgatan 5 T-banan Skanstull.
SUPERKRAFTER! Består av Gabriella Hansson och Dan Hansén. Båda har sin musikaliska grund i två olika musikstilar som har ordet och berättelsen i fokus.
Lyssna in låten KontrollKontrollKontroll här: https://youtu.be/sL2gAmufEEk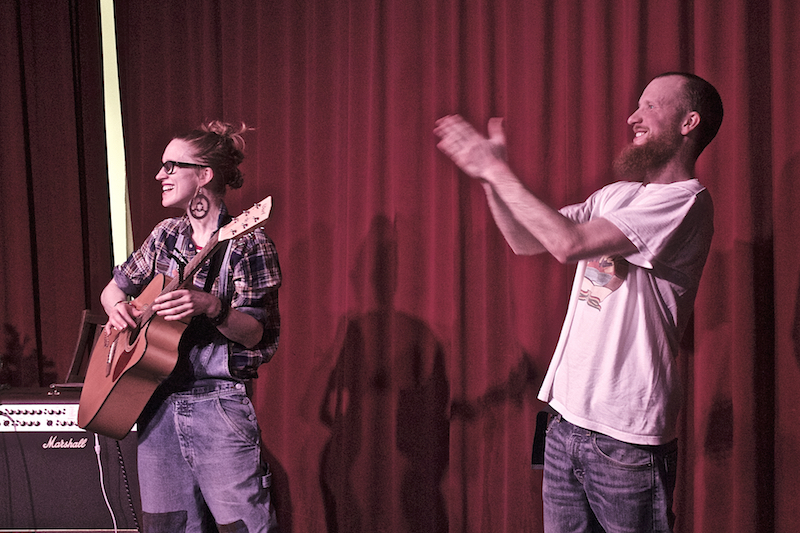 SUPERKRAFTER
Hip hopparen poeten den varma människan Dan Hansén med artistnamnet dunderdan lärde jag känna för en bunt år sedan. Nu är vi täta i livet och delar våra vägar med varandra. Jag är stolt och glad för det. Genom Dan har jag lärt känna denna yngre generation väldigt väl och det berikar mitt liv. Att umgås mellan generationerna är mycket viktigt. Vårt system med barn på dagis gamla på hem osv gör vårt samhälle kyligt kallt. Så tack alla 80/90-talare för att jag får hänga med er!!
Bakom själva kaffedelen ligger en lite scen som kanske rymmer 80 personer. Det var fullt ovan scen.
BLANDAD ÅLDER BÅDAR MYCKET GOTT
Sällan känner vi en sådan varm och ärlig atmosfär. Jag gillar dessa småställen som har förmågan att få en stämning som knappt går på större ställen! Sammantaget i uppträdandena glödde det. Det brann av varmhet och ärlighet. Vid artistbytet gick ja på WC. Utanför ringlar det en kissnödig kö! Hör hur några står där utanför toaletten och samtalar: "Vad samstämmiga dom är SUPERKRAFTER." "Har du hört dom förut?" Ja sa nån. Någon annan sa nej det har jag inte.
Så med andra ord, nu har skaran av folk som diggar SUPERKRAFTER tilltagit! Detta är bara början på deras karriär. Med rätt fokus kommer SUPERKRAFTER komma långt och få ut mycket av sitt konstnärliga skapande.
Songgaar är en av dem jag lärt känna från den yngre generationen! Uppträde med sitt första album, "Fredens prins".
SONGGAAR HADE FÖRSTÄRKNING AV JONAS ERIK BERGLUND div slagverk
Songgaar är rapparen som även producerar sin musik. Rappar, sjunger och slänger ur sig dikter och berättelser från livet.
Sången "Adios" och berättelsen om hur han Vladi Songgaar med sin mamma lämnade Chile och tog sig till Sverige fick mej i tårar så fint va det och så starkt uppträdande. Du kan beställa hans nyutgivna skiva.
Här kan ni lyssna på Songgaar´s album:
https://open.spotify.com/album/3Y5o5u5RLkORV5V2Tr6KkL
Som sistalåt spelade de ihop
DAN GABRIELLA OCH VLADI
Efter samlades många utanför Kafé Klavér. Äldre som yngre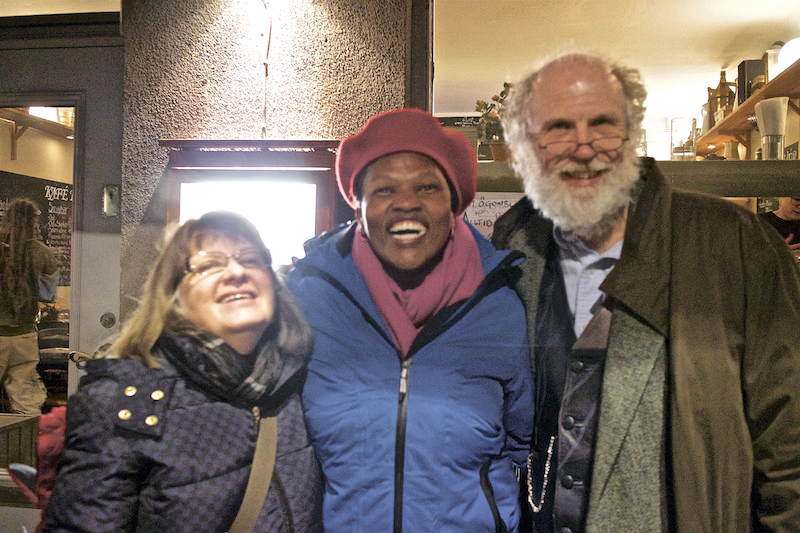 ELISABETH LINDA OCH ANDERS
Super powers! Consists of Gabriella Hansson and Dan Hansen. Both have their musical foundation in two different styles of music that have the word and the story in focus.
Hip jumper poet warm man Dan Hansen with artist name dunderdan I got to know a bunch of years ago. Now we are frequent in life and share our ways with each other. I am proud and happy about it. By Dan I have come to know the younger generation very well and it enriches my life. Socializing between generations is very important. Our system of children in kindergarten old at home and so does our society chilly cold. So thank you all 80/90-speaker because I get to hang out with you! Rarely we feel such a warm ambiance. I like places that have the ability to get a good atmosphere! Overall, the performances glowed there. It was burning heat and honesty. At the artist spoils went well on the toilet. Outside the wind was a pee queue! Hear how some standing there outside the toilet and talk: "What they are consistent superpowers."
"Have you heard them before?" Yes, said someone. Someone else said no I have not.
So in other words, now the crowd of people hooked on superpowers to take! This is just the beginning of their career. With the right focus will superpowers go far and get a lot out of her artistic creation.
Songgaar is one of them I got to know from the younger generation! Scene with his first album, "Prince of Peace".
Songgaar is a rapper who also produces his music. Rap, sing and fling poems and stories from life.
The song "Adios" and the story of how he Vladi Songgaar with his mother left Chile and took him to Sweden got me in tears so nice eh there and so strong behavior.