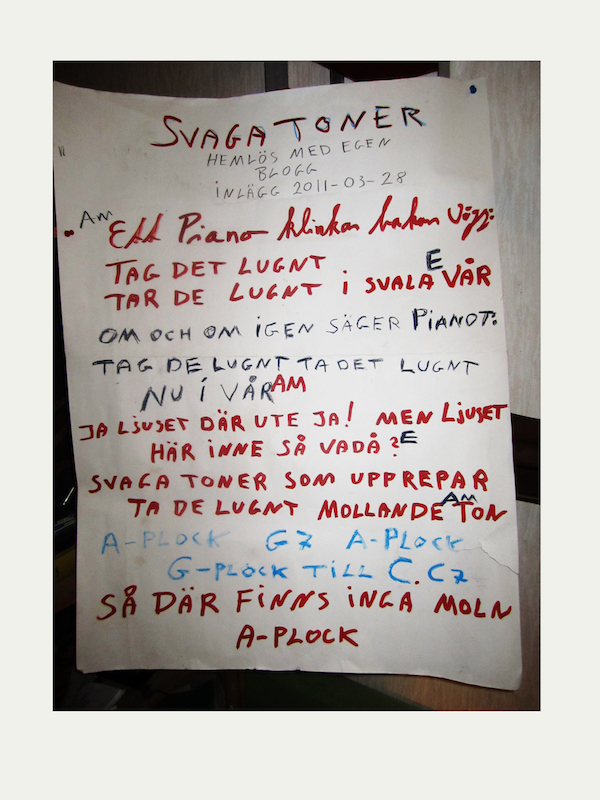 "Jag förstod att min kropp höll på att stanna våren 2011. Alla tecken visade det och ett tag var det skytteltrafik med ambulanser till akuten. Nu visste jag att om jag inte tar det lugnt, timme för timme, dag för dag, så spricker organen.
En förmiddag hörde jag genom väggen ett ljud som fucking ju lät som ett piano.
Jag kopplade snart ihop pianot med att jag är tvungen att ta det lugnt för piano betyder ju ta det lugnt. Det var vår och det var svalt. Jag har skrivit 15, 20 låtar sedan jag började spela gitarr vid 45 års ålder. Den här låten är en av favorit- låtarna jag skrivit, rytmen passar mej, hårt snabbt tempo.
Lustigt egentligen. När jag växte upp så var det lillbrorsan som glänste med sång och gitarrspel. »Hönan Agda« och »House of the rising sun«.
Jag stod bara dum och tittade på, lite avundsjuk på sätt och vis. Jag tror brorsan la av att spela för hur många år sen som helst.
Kanske när jag började för tio år sedan, vad vet jag.
Men i alla fall. Nån sa till mej när jag precis börjat lära mej spela ett par ackord: »Om några år kommer du kunna skriva egna låtar!« Ta dej nånstans, tänkte jag. Men se på tusan om inte snubben på den institutionen spådde helt rätt år 2002. Musicerandet är oerhört viktigt som en del i min skapande spektrapalett."
Text och foto från min bok HÅLL HÖJDEN!
Fyra år senare spelar jag och Sofia Karlsson under en gala min låt "Ett piano klinkar!
Sofia kompar till mej och sjunger så vackert. Det var en oerhörd kraftig upplevelse.
Text och bild ovan kommer från min bok HÅLL HÖJDEN! Den är slut i Akademibokhandeln.
Men jag har ett mindre lager kvar!
Pris 230:- + frakt.
Se videon när vi spelar live
Klicka text nedan